Miami Dolphins legendary linebacker Zach Thomas officially took his place in the Pro Football Hall of Fame on Saturday afternoon, as he took a long look at his bronze bust that will forever be enshrined in Canton, Ohio. 
Thomas also delivered a speech, thanking everyone who has helped him along the way to seven Pro Bowls and five All-Pro selections. 
One of those people was the late Junior Seau, a teammate of Thomas's on the Dolphins. Thomas praised Seau's "inspiration" throughout his football career. 
CLICK HERE FOR MORE SPORTS COVERAGE ON FOXNEWS.COM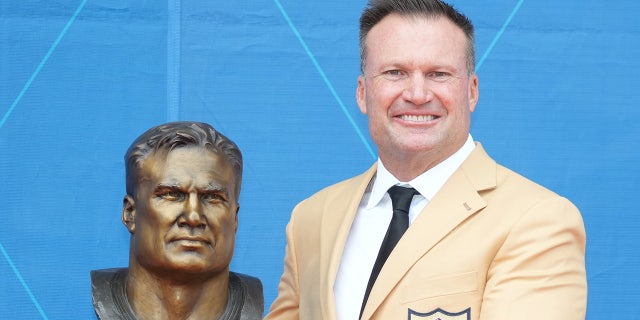 There's one person whose name I've yet to mention," Thomas said in front of thousands of football fans, friends and family at Tom Benson Hall of Fame Stadium during his induction ceremony. "His poster hung on my wall in college, and he was everything I wanted to be as a football player. He was my inspiration, and he became my teammate and friend."
NFL LEGEND DEMARCUS WARE TAKES CRACK AT NATIONAL ANTHEM BEFORE HALL OF FAME GAME
Seau, who had been a legend with the San Diego Chargers prior to his time in Miami with Thomas, took his own life. He was found dead with a gunshot would to his chest in his home on May 2, 2012. 
It was determined that Seau had suffered from CTE, after the National Institute of Neurological Disorders and Stroke did research on his brain tissue provided by his family. 
Thomas and Seau were teammates on the Dolphins from 2003-06, a dream-come-true for the former. 
Though he's not here physically, he's here in spirit in a bust in that building behind me. I'm truly honored to join him," Thomas said, choking back tears in the process.
"Junior Seau, love you buddy."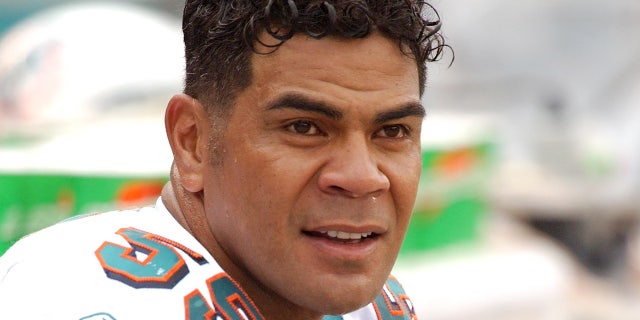 The crowd in Canton gave a deafening cheer for Thomas, as he took a moment to collect his emotions. 
Thomas played 182 games in the NFL over his 13 seasons in the league, 12 of which in a Dolphins uniform. He was just a fifth-round draft pick out of Texas Tech by the Dolphins in 1996, but he quickly became a middle linebacker whom his first head coach, Jimmy Johnson, who introduced him on Saturday, loved having on his defense. 
During his rookie year, Thomas collected 154 combined tackles, two sacks, two forced fumbles and recoveries and three interceptions, one of which was returned for a pick-six. 
RIC FLAIR CALLS FOR BEARS LEGEND STEVE MCMICHAEL, WHO IS BATTLING ALS, TO ENTER PRO FOOTBALL HALL OF FAME
From there, Thomas would finish with 100-or-more tackles in all but three seasons. Over 184 games in the NFL, Thomas finished with 1,734 combined tackles, 20.5 sacks, 16 forced fumbles, 74 tackles for loss, 17 interceptions (four returned for touchdowns) and 48 passes defended. 
"This is a dream come true," Thomas said. "A small-town country boy is standing on this stage with all these legends behind me. My football career has come full circle, from August 5, 1996, being given that one chance, to August 5, 2023, being forever enshrined into the Pro Football Hall of Fame."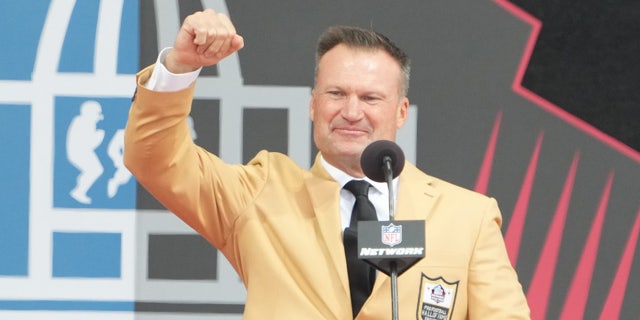 CLICK HERE TO GET THE FOX NEWS APP
As he said, Thomas will forever be with his Dolphins brother and long-time role model in Seau for as long as the Pro Football Hall of Fame stands.