Week 6 of the college football season was total chaos, in a good way. 
It's what every college football fan hopes for — a day of football that thrills starting with the noon ET kickoff until the wee hours of Sunday morning on the East Coast.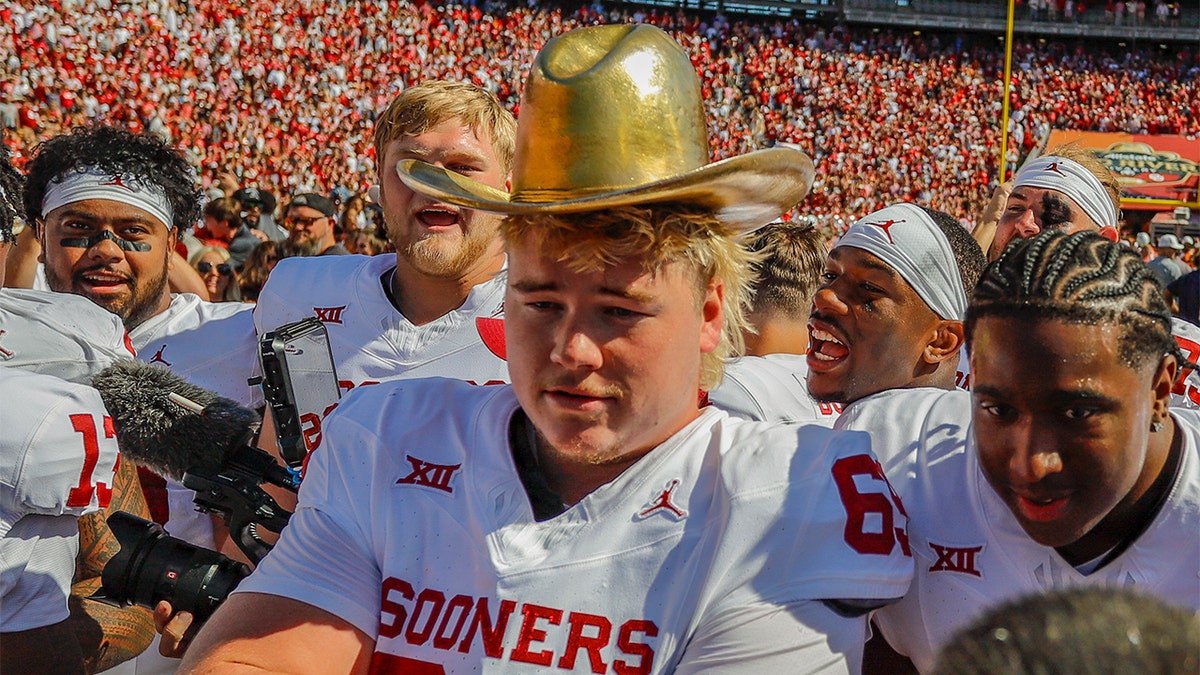 The Red River Rivalry at the Cotton Bowl in Dallas started the day with a classic before the USC Trojans found another way to escape a loss. 
MIAMI'S MASSIVE COACHING BLUNDER LEADS TO HEARTBREAKING LOSS TO GEORGIA TECH
In between those two games, a lot was revealed as the final four College Football Playoff creeps ever closer. 
Let's take a look at what was learned in Week 6.
Oklahoma is a CFP contender but don't rule out Texas
In the final version of the Red River Rivalry in the Big 12, Oklahoma and Texas gave college football fans a show to remember for years. 
Oklahoma quarterback Dillon Gabriel put himself firmly in the Heisman conversation after leading the Sooners on a last-minute game-winning drive to move OU to 6-0 on the season. 
Gabriel finished the day 23 of 38 for 285 yards and a touchdown, adding 113 yards and a score on the ground. 
His performance, along with Oklahoma's defense, puts the Sooners in prime position for a CFP spot in Brent Venables' second season as head coach.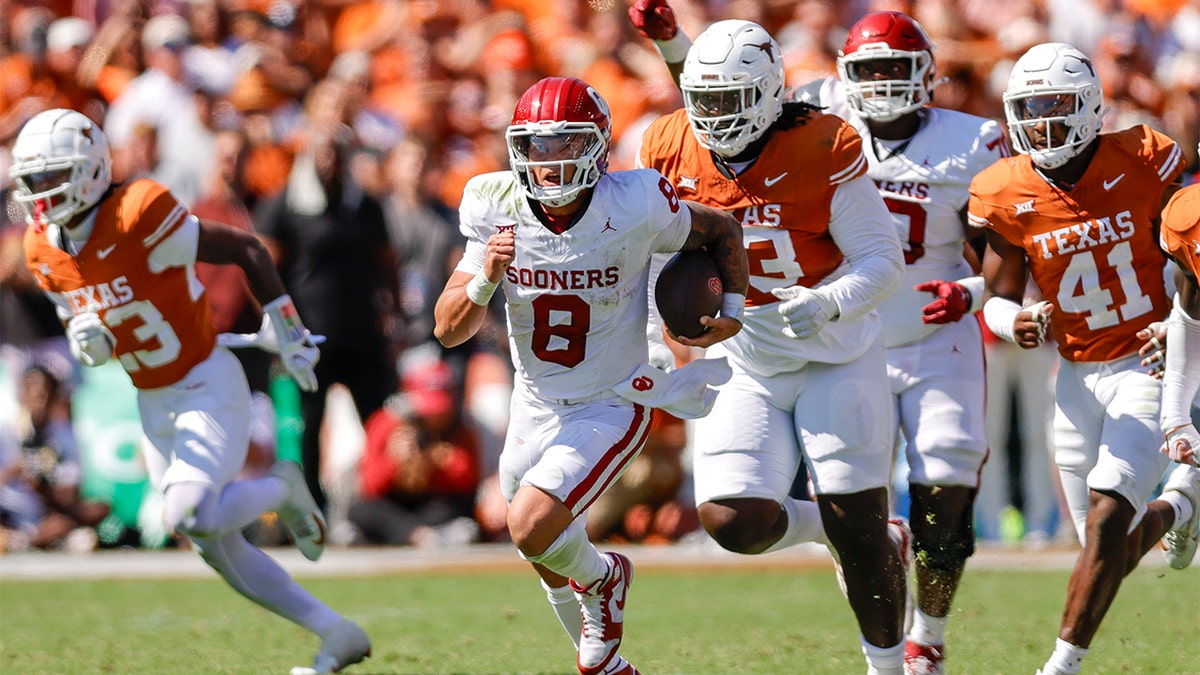 OKLAHOMA DOWNS TEXAS IN RED RIVER RIVALRY CLASSIC WITH CLUTCH LAST-MINUTE DRIVE
"He's the calmest guy I've ever been around at the quarterback position," Venables said. "He was fearless. I don't put any limits on what Dillon can do. He's playing as confident as anybody on our team right now."
Oklahoma has just one remaining ranked team on its schedule — a trip to Kansas in late October — and the Sooners now control their own destiny in the Big 12. 
For Texas, it's not all doom and gloom despite the loss. 
The usual "Texas isn't back" conversation does not apply this time around.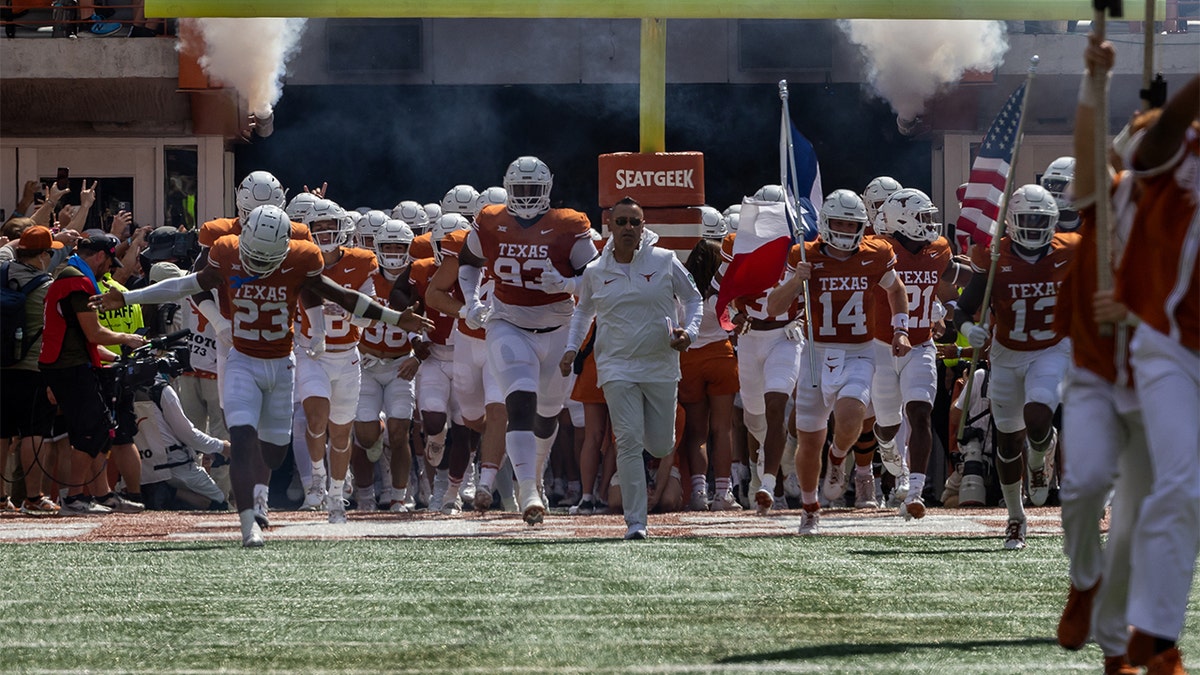 The Longhorns played well enough to win Saturday. They took the lead with 1:17 remaining in the fourth quarter but got beat due to too many mistakes and a goal-line stand by the Sooners. 
While Texas no longer has any room for error, a CFP spot is still a real possibility if the Longhorns run the table and set up a possible rematch with Oklahoma in the Big 12 championship game. 
The Georgia questions can stop for now
It was a fun talking point while it lasted. 
The Georgia Bulldogs entered Week 6 with questions swirling around Kirby Smart's program following back-to-back national championships. 
While Georgia was 5-0 entering the weekend, the schedule was not impressive, and come-from-behind victories over South Carolina and Auburn only fueled talk the Bulldogs were finally vulnerable. 
They're not. 
COLORADO WINS ON LAST-MINUTE FIELD GOAL AFTER LOSING TWO STRAIGHT
Georgia jumped all over No. 20 Kentucky Saturday night in Athens, getting out to a 21-0 lead early in the second quarter in a 51-13 romp. 
The Wildcats were supposed to be Georgia's biggest test of the season after their third 5-0 start in Mark Stoop's tenure as head coach. 
It wasn't close.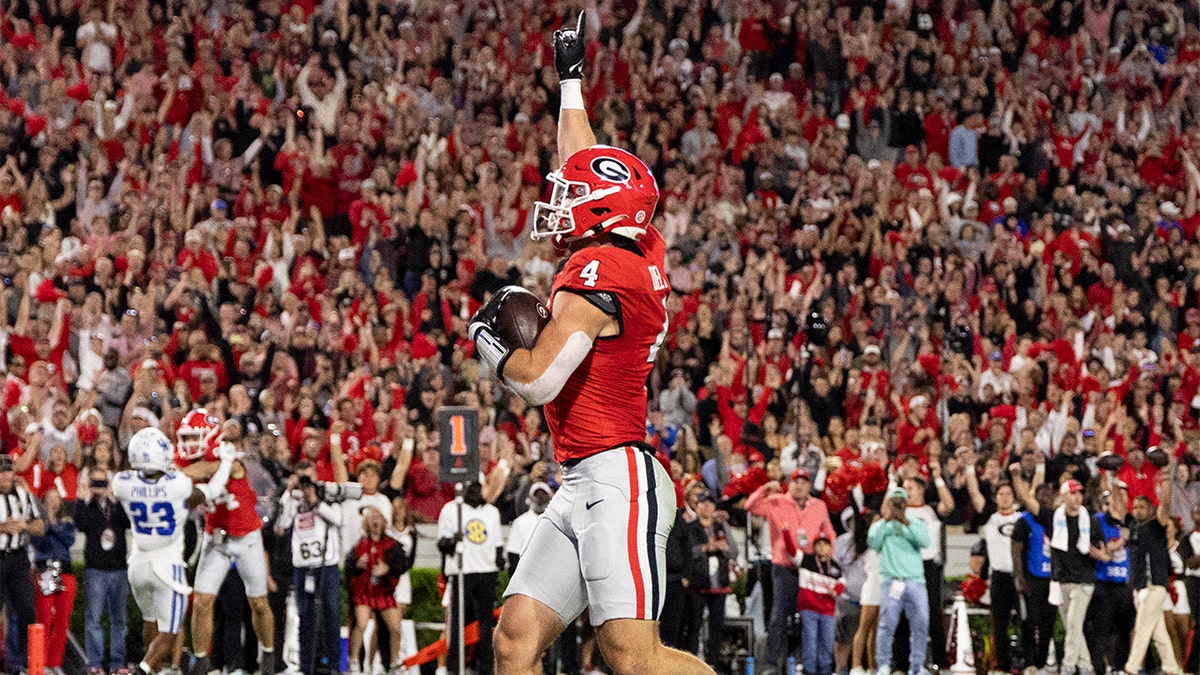 Georgia outgained Kentucky 608-183 and held Kentucky running back Ray Davis to just 53 yards on the ground. 
"They beat us in every area," Stoops said. "It is hard to come up with an opening statement after a beatdown like that. It has been a while. It doesn't feel good. I told the team that the good news is that it counts as one game. We have to respond and bounce back. I will put this one on me. We weren't prepared in any area."
Georgia is still the best program in college football, and the AP voters once again feel that way. 
After receiving just 35 of a possible 62 first-place votes after Week 5, Georgia received 50 votes Sunday. 
CLICK HERE FOR MORE SPORTS COVERAGE ON FOXNEWS.COM
The Bulldogs don't play another team currently ranked in the top 25 until November 11 against Ole Miss. 
Notre Dame's schedule did them in
It was only a matter of time before Notre Dame's schedule became too much. 
And it doesn't get any easier this week. 
Notre Dame's CFP chances came to a crashing halt Saturday night in Louisville, their third straight game against a top 25 opponent. 
After back-to-back emotionally draining games against Ohio State and Duke, the Fighting Irish looked tired as a very good Louisville team outrushed Notre Dame 184-44.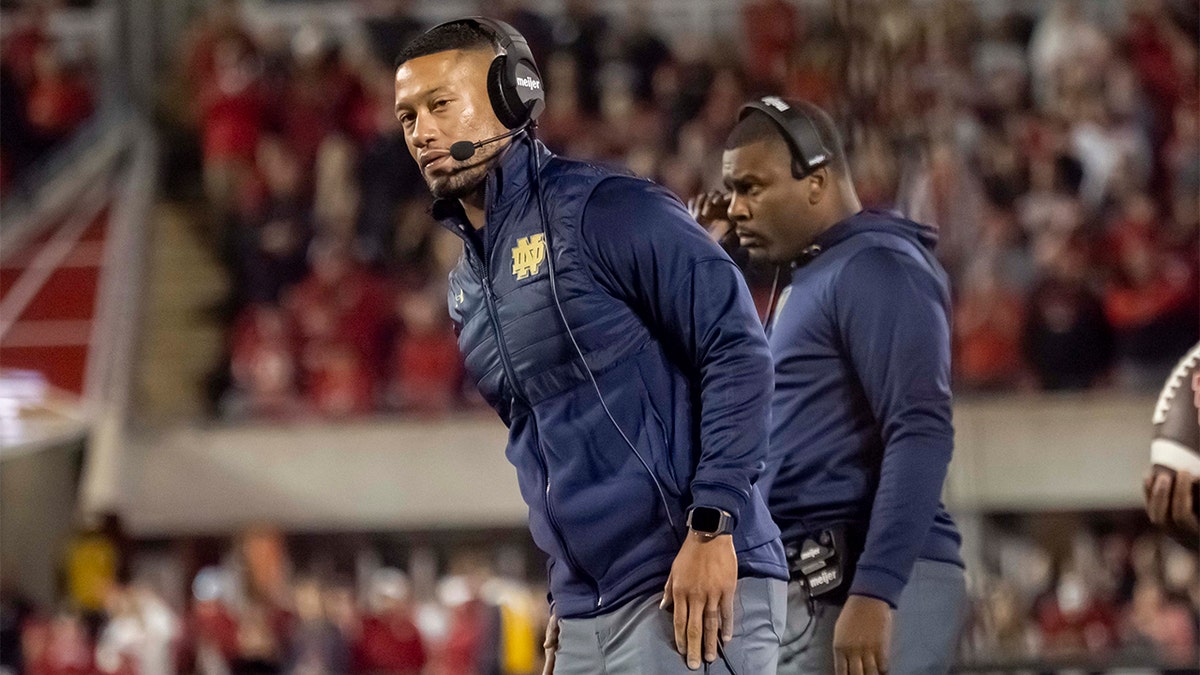 Marcus Freeman's team allowed five sacks of quarterback Sam Hartman and turned the ball over five times. 
No. 10 USC and Caleb Williams roll into South Bend this week as Notre Dame looks to avoid a third loss. 
"You don't have much time to feel sorry for yourself," Freeman said. "I'm going to really count on our leaders to make sure our guys understand we have to learn from this game, and then we have to move forward and get ready for USC. We cannot sit here and mope and feel bad for ourselves. We have to move forward. This will be a true test of our leadership."
The Fighting Irish also have a trip to Clemson on the schedule in November. 
The Pac-12 is going to take center stage for the next several weeks
In its final season before it collapses, the Pac-12 is absolutely loaded. 
After Week 6, the conference has seven teams ranked in the top 25 and three in the top 10. 
Let's take a look at the remaining schedules for the undefeated Pac-12 teams. 
Undefeated Pac-12 teams
No. 7 Washington: No. 8 Oregon, Arizona State, Stanford, No. 10 USC, No. 16 Utah, No. 15 Oregon State, No. 19 Washington State
No. 8 Oregon: No. 7 Washington, No. 19 Washington State, No. 16 Utah, Cal, Arizona State, No. 15 Oregon State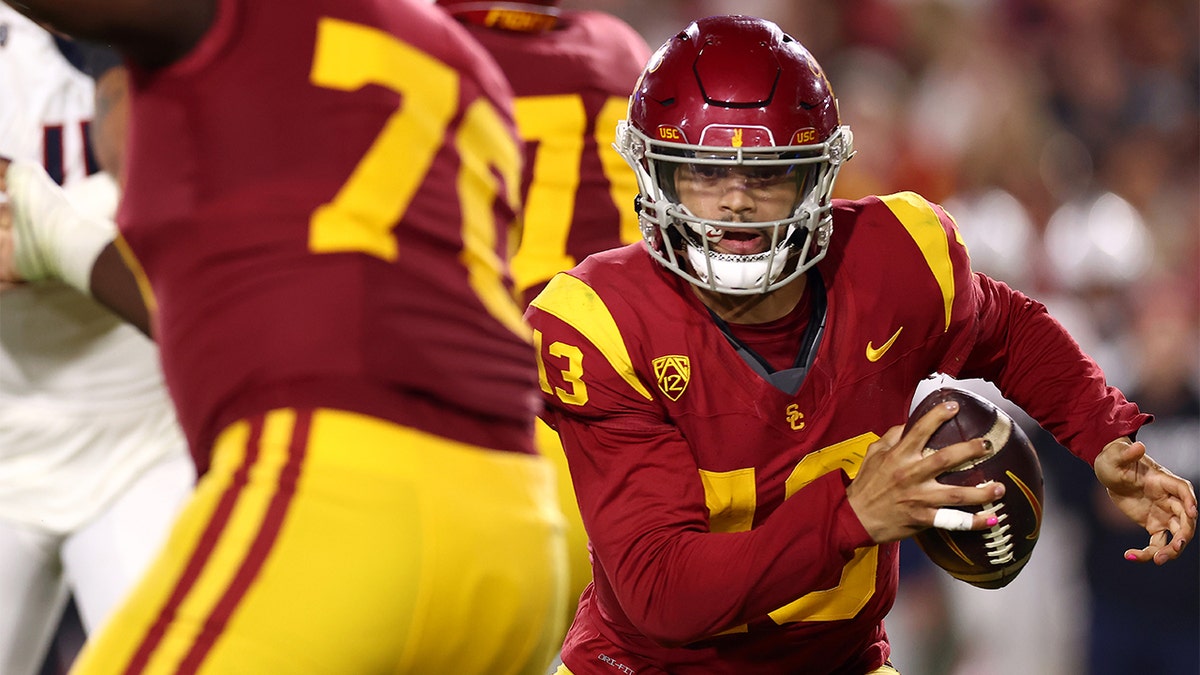 No. 10 USC: No. 21 Notre Dame, No. 16 Utah, Cal, No. 7 Washington, No. 8 Oregon, No. 18 UCLA 
CLICK HERE TO GET THE FOX NEWS APP
ESPN's "College Gameday" will head to Seattle Saturday for the top 10 matchup between Oregon and Washington, and it's doubtful it will be the last Pac-12 location of the season. 
And while the Pac-12 is arguably the best it's ever been, there has to be at least some worry the conference will eat itself before the Pac-12 championship game and end its six-year CFP drought. 
The remaining schedules are brutal, and even the unranked teams are putting up a fight (see Arizona's three-overtime loss to USC in Week 6). 
The Associated Press contributed to this report