Coco Gauff is putting her name in the history books.
The 19-year-old phenom won her semifinals match at the U.S. Open on Thursday over Karolina Muchová, 6-4, 7-5.
Although the victory came in straight sets, it hardly came easily – the penultimate point was a 40-shot rally as Muchová was desperately trying to get the second set into a tiebreaker on her serve – but Gauff was able to break the point to clinch the win.
CLICK HERE FOR MORE SPORTS COVERAGE ON FOXNEWS.COM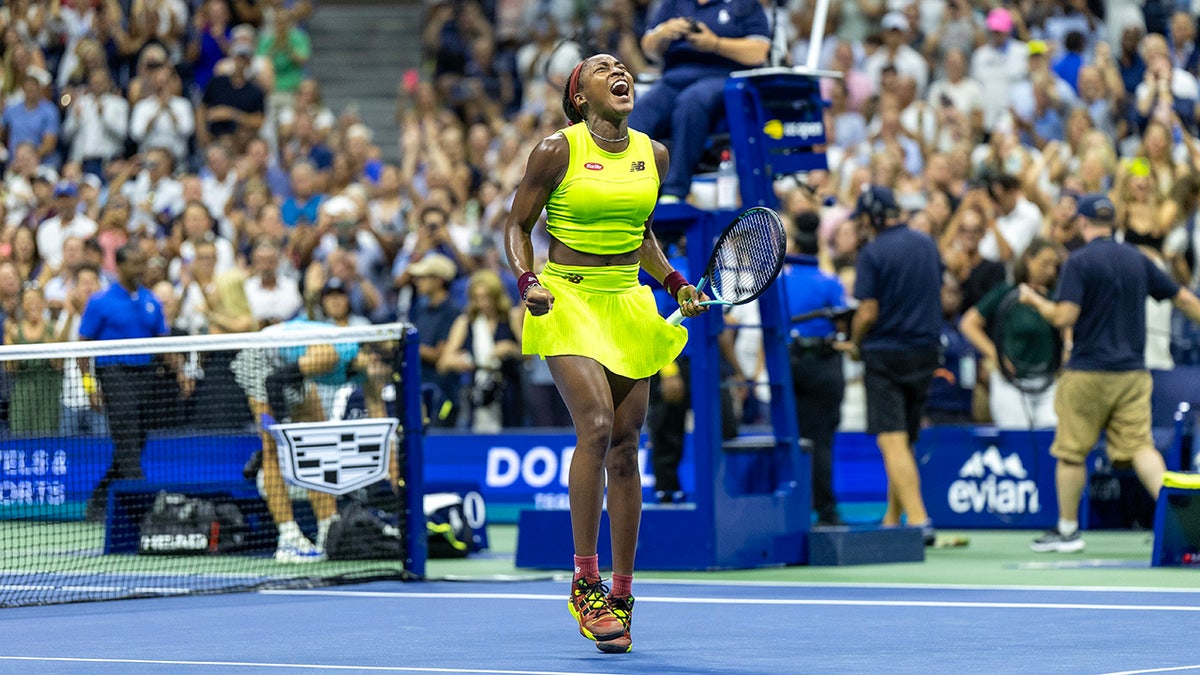 Gauff actually had six separate match points before she closed the match – one came when she was up 5-3 in the second set, and another four came on the final point.
But the American obviously had the home-court advantage and prevailed.
"Some of those points, it was so loud, and I don't know if my ears are going to be OK," said Gauff
With the victory, she is the youngest American to reach the U.S. Open final since the legendary Serena Williams did so in 1999 when she was just 17 years old. She would go on to defeat Martina Hingis for her first of 23 grand slam titles.
At the time, Williams became the first African American woman in the Open Era to win a singles grand slam.
This is Gauff's second Grand Slam final, having made it to the final in the 2022 French Open where she lost to Iga Swiatek. Her previous best finish in Queens was in the quarterfinals last year.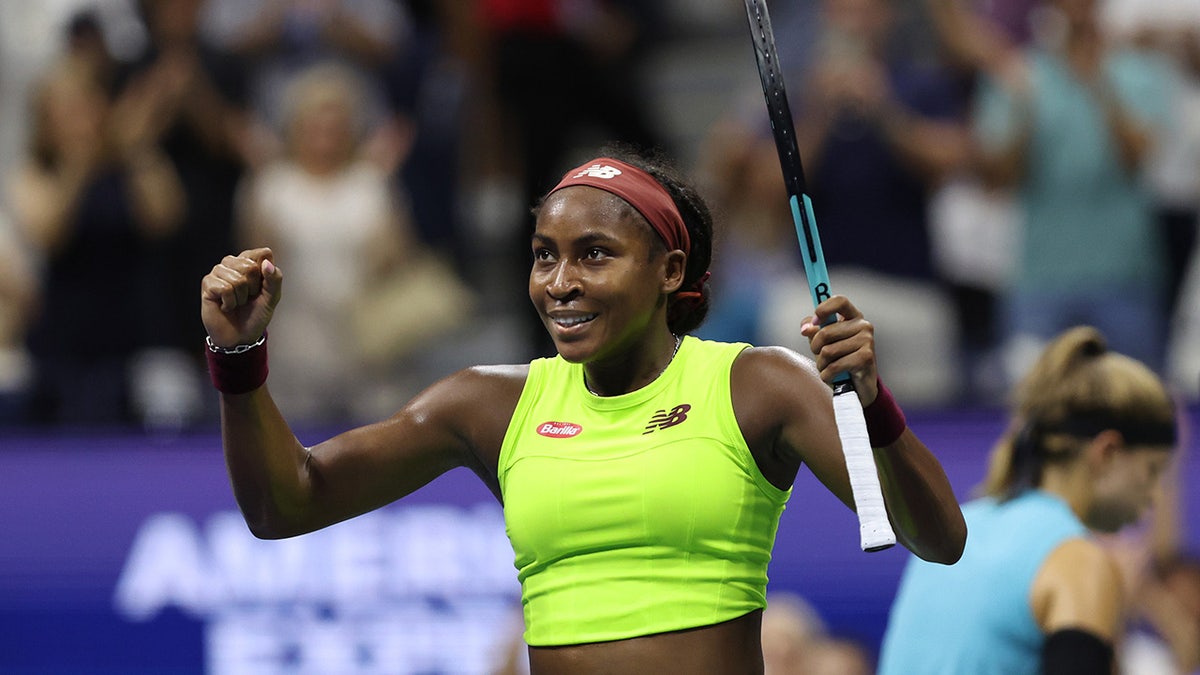 'END FOSSIL FUELS' PROTESTERS DISRUPT PIVOTAL SEMIFINAL MATCH; DEMONSTRATOR GLUES SHOES TO GROUND
The match didn't come without some wild stuff in the stands though, as climate protestors disrupted the action on the court.
In shirts that read "End Fossil Fuels," U.S. Open tournament referee Jake Gardner entered the court while security went into the stands to remove the protesters. A total of four protesters were taken into custody. One of them even glued his feet to the ground.
"Following the first game of the second set in the Gauff-Muchova match, play was halted due to a protest conducted by four spectators," the United States Tennis Association said in a statement.
The organization said 49 minutes elapsed before play resumed.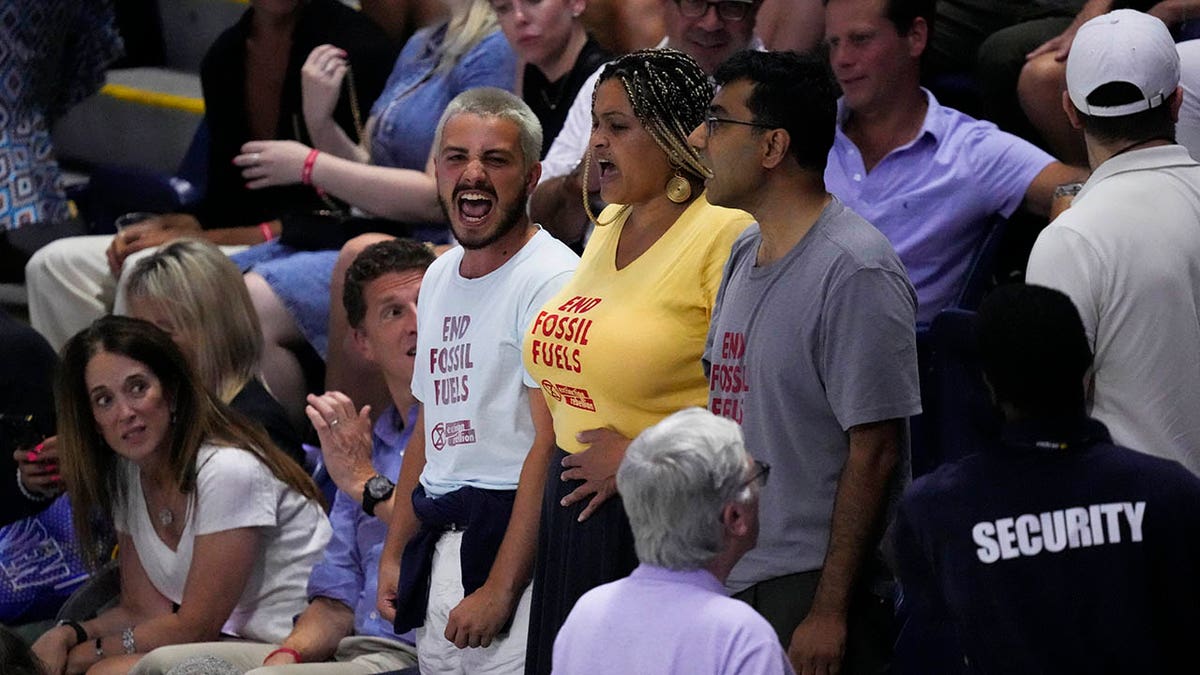 CLICK HERE TO GET THE FOX NEWS APP
The eventful protest could have made Gauff remember this night for all the wrong reasons, but now, she has her eyes on a much higher prize.
"I grew up watching this tournament so much, so it means a lot to be in the final. A lot to celebrate," Gauff said. "But the job is not done, so hopefully you can back me on Saturday."
She will face either No. 2 Aryna Sabalenka of Belarus or No. 17 Madison Keys of the U.S. on Saturday.
Fox News' Ryan Gaydos and the Associated Press contributed to this report.