Riley Gaines on Friday said she was exploring potential legal action against a website that claimed her response to an incident at a California library led to a bomb threat.
PinkNews cited a Media Matters for America story which suggested Gaines' reaction to an incident over the weekend at the Mary L. Stephens Davis Branch Library in Davis led to the bomb threat Monday and conservative personalities and outlets were to blame.
Gaines, who is the host of OutKick's "Gaines for Girls Podcast," took issue with how Sophia Lorey, an outreach coordinator for California Family Council, was treated at her event. Videos posted to X, formerly known as Twitter, showed Lorey getting interrupted multiple times as she talked about "biological girls" and "biological men." 
CLICK HERE FOR MORE SPORTS COVERAGE ON FOXNEWS.COM
The former collegiate soccer player said she was asked to leave because she was misgendering people during her time to speak.
Media Matters titled their Wednesday story, "Bomb threat and hate speech against library follow targeted harassment from Riley Gaines and other right-wing media figures." PinkNews followed up Friday with, "Riley Gaines anti-trans harassment on social media linked to bomb threat on California library."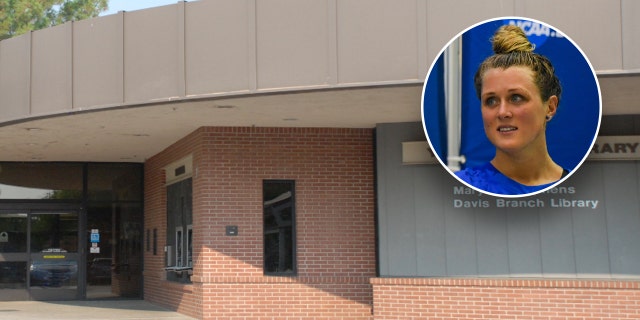 Gaines suggested she would take legal action in a post on X.
"Doubling down on a sinking ship by posting this libelous garbage again," she wrote.
"You mention at the bottom of your article you contacted me for comment (which is a lie) so here's your comment to take back to the publisher: 'Get your lawyers ready.'"
RILEY GAINES LAUGHS OFF MILWAUKEE PROTESTERS AFTER 'F— YOU!' CHANTS: 'SHIVER ME TIMBERS, I'M SO SCARED!'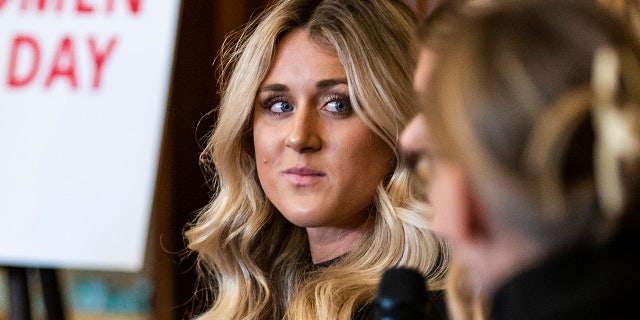 In a statement to OutKick, Gaines said: "I'm definitely exploring options for legal action to be taken against PinkNews. They have resorted to defamation and lying, which has in turn caused an infiltration of personal threats to my safety. News outlets continue to lie and need to be held accountable. They are the only ones inciting violence with their libelous headlines used to spike engagement."
Gaines, the director of the Riley Gaines Center at the Leadership Institute, has talked about her experience at the 2022 NCAA Championships at length and how she was forced to get changed in the same locker room as transgender swimmer Lia Thomas.
Gaines has said the entire experience made her uncomfortable.
She recently told the Christian Post she's not anti-trans but "pro-woman."
"This is not anti-anything. It's not anti-trans; no one is being banned from playing sports. That's a false narrative being pushed," she said.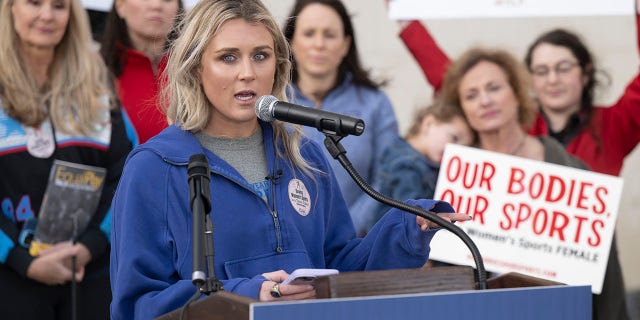 CLICK HERE TO GET THE FOX NEWS APP
"This is pro-woman, it's pro-fairness, it's pro-truth, but it's not anti-anything. I'll be the first one to say I think everyone should play sports regardless of who you are, your sexual orientation, your gender identity, your race, whatever sport you play, everyone should play sports. I actually encourage people to play sports."