MLB umpire Ángel Hernández came under fire Sunday afternoon for calling a strike on a pitch that appeared to be way off the plate in a game between the Atlanta Braves and San Francisco Giants.
Braves pitcher Max Fried had two offerings to Giants batters that were especially egregious and clearly outside the zone, but Hernández called the pitches strikes. 
Codify showed the pitch charts for teams, and there were several pitches that weren't in the batters' box that were called strikes.
CLICK HERE FOR MORE SPORTS COVERAGE ON FOXNEWS.COM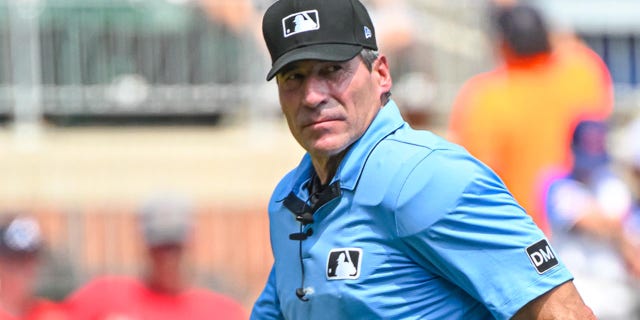 Atlanta outfielder Marcell Ozuna was also punched out in the second inning on a seemingly bad called strike three. The pitch was at Ozuna's shins, and broadcasters appeared to be just as stunned as Ozuna was as he walked to the dugout.
San Francisco won the game 4-3.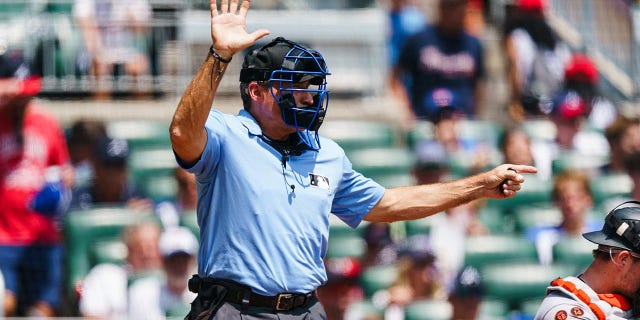 Hernández has felt the wrath of baseball fans for the way he calls a game, and it didn't appear he was avoiding any criticism Sunday afternoon.
PHILLIES INFIELDER BRYSON STOTT'S CUSTOM BAT TAKES YOU BACK TO SCHOOL AT LITTLE LEAGUE CLASSIC
Giants outfielder Joc Pederson drew a bases-loaded walk in the ninth inning to help San Francisco pick up the win. Luis Matos and Wilmer Flores each hit home runs.
"It wasn't the prettiest game, but we'll take it," Giants manager Gabe Kapler said after the game. "That is a good road win against a very good team."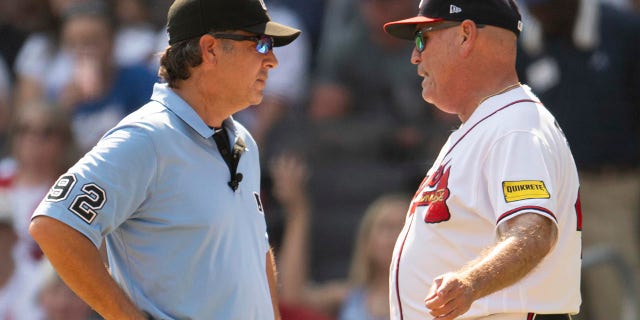 CLICK HERE TO GET THE FOX NEWS APP
Atlanta will play the New York Mets, and the Giants take on the Philadelphia Phillies Monday.
The Associated Press contributed to this report.