Former President Trump did not hold back how he felt after watching Megan Rapinoe and others on the U.S. women's national team miss penalty kicks that ultimately led to an early exit in the round of 16 at the 2023 Women's World Cup against Sweden.
Using the social media platform Truth Social, Trump bashed Rapinoe and the entire USWNT for being "hostile to America."
"The 'shocking and totally unexpected' loss by the U.S. Women's Soccer Team to Sweden is fully emblematic of what is happening to the [sic] our once great Nation under Crooked Joe Biden," Trump wrote. "Many of our players were openly hostile to America – No other country behaved in such a manner, or even close. WOKE EQUALS FAILURE. 
CLICK HERE FOR MORE SPORTS COVERAGE ON FOXNEWS.COM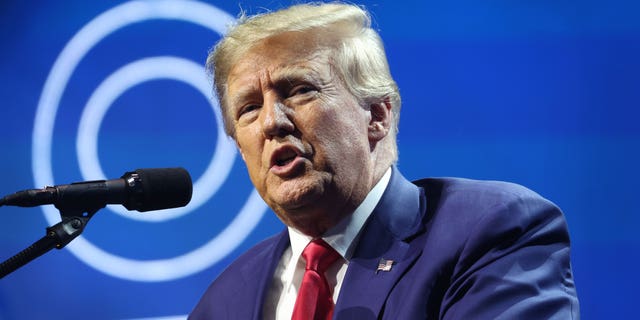 "Nice shot Megan, the USA is going to Hell!!! MAGA."
The USWNT was going for World Cup history on all fronts – men's, women's and senior – as they had the opportunity to become the first team ever to win three straight World Cups after winning it all in 2015 and 2019. 
However, this loss in the round of 16 is the earliest exit the U.S. has ever taken in a World Cup, which left many scratching their heads in disappointment. 
SWEDEN STUNS USWNT IN PENALTIES; DEFENDING WOMEN'S WORLD CUP CHAMPS ELIMINATED
This World Cup run was also filled with some controversy, as the lack of national anthem singing from the team – it is customary in the World Cup to see different countries belting their national anthems before play – caused some to speak out against the USWNT. 
Former U.S. men's national team player and current broadcaster Alexi Lalas admitted the USWNT was "unlikeable to a portion of America."
"Don't kill the messenger. This #USWNT is polarizing. Politics, causes, stances, & behavior have made this team unlikeable to a portion of America," Lalas tweeted. "This team has built its brand and has derived its power from being the best/winning. If that goes away they risk becoming irrelevant."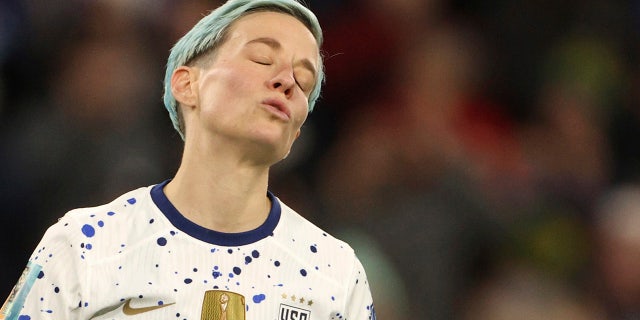 Rapinoe's critical moment came just after Sweden airmailed a penalty kick of their own over the net after, which brought the penalty kicks to a U.S. advantage at 3-2. 
However, Rapinoe did the same exact thing, which is uncharacteristic given the 38-year-old has buried PKs numerous times in her career. 
Rapinoe was not the only U.S. player to miss badly. Sophia Smith, playing in her first World Cup, missed the net to the right on the next U.S. shot. Then, Kelley O'Hara hit the right post with her shot, once again shocking everyone in the stands and everyone at home watching. 
After the match, which was the last of the World Cup for Rapinoe's career, she called it "dark comedy" that she missed her penalty kick. 
"I thought we played really well. I'm so happy for us that we went out like that, playing the way that we did and having a ton of joy on the ball. I mean, this is like a sick joke. For me, personally, I'm just like this is dark comedy that I missed a penalty."
"This is the balance to the beautiful side of the game. I think it can be cruel. Just not our day, but yeah, I still just feel really grateful and joyful and I know it's the end and that's sad. But to know that this is really the only time I've been in one of these this early says so much about how much success I've been able to have and just how much I've loved playing for this team and playing for this country. 
"It's been an honor."
USWNT'S DYNASTY HAS OFFICIALLY BEEN PUT ON NOTICE
When asked about what moment stands out to her the most during her World Cup career, Rapinoe pointed to the "equal pay" chants that came during the 2019 final. 
"I think they're saying 'equal pay,' but they could be saying a lot of things," Rapinoe said. "This team has always fought for so much more and that's been the most rewarding part for me. Playing in World Cups and winning championships and doing all that. 
"To know that we've been able to use our really special talent to do something that's really changed the world forever, I think that means the most for me."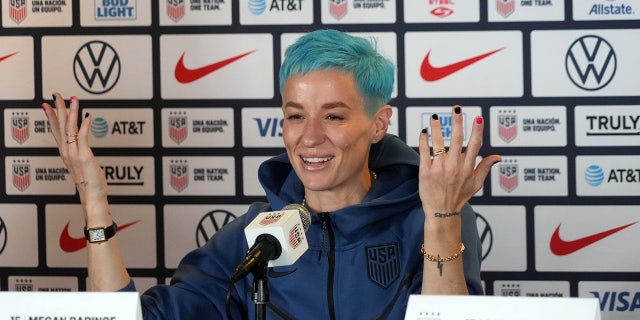 CLICK HERE TO GET THE FOX NEWS APP
Rapinoe has 63 USWNT goals in her career, which places her 10th all-time.