Five demonstrators were arrested on day four of the 2023 UCI Cycling World Championships in Glasgow, Scotland, on Sunday in connection with a climate protest that also called out the sport governing body's recent policy change that banned transgender athletes from women's events.  
Sunday's race was delayed for more than 45 minutes after a group of protesters reportedly glued themselves to the ground about 80 kilometers into the race.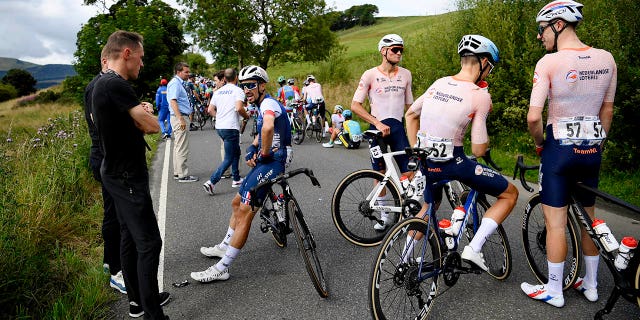 The group, "This Is Rigged," claimed responsibility for the demonstration on Twitter and shared testimony from one protester named Rebecca, who claimed to be a trans woman protesting UCI's recent policy change.
CYCLING'S GOVERNING BODY BARS TRANSGENDER FEMALES FROM WOMEN'S INTERNATIONAL EVENTS
"As a trans woman, I've been told I'm not welcome on the cycling track by UCI. At the same time they allow a petrochemical company to field a team showing they have no real care for people. I take to the track to point out this hypocrisy and stand for a better future"
Union Cycliste Internationale (UCI) announced last month that trans cyclists who "transitioned after (male) puberty" will now be banned from competing in all international women's events. 
"From now on, female transgender athletes who have transitioned after (male) puberty will be prohibited from participating in women's events on the UCI International Calendar — in all categories — in the various disciplines," the governing body said in a statement at the time.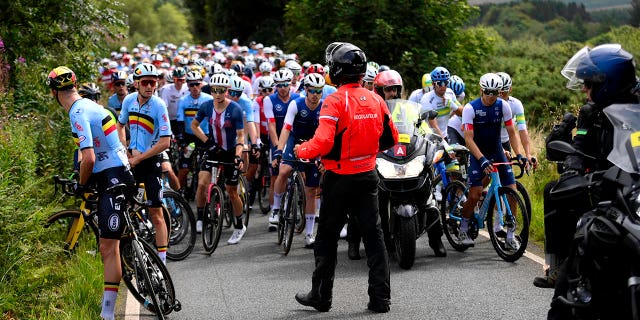 CLICK HERE FOR MORE SPORTS COVERAGE ON FOXNEWS.COM
The decision followed a July 5 meeting, where UCI found that the current "state of scientific knowledge" can not guarantee that any physical advantage would be eliminated after undergoing hormone therapy treatments. 
"In this context, the UCI Management Committee concluded, considering the remaining scientific uncertainties, that it was necessary to take this measure to protect the female class and ensure equal opportunities."
CLICK HERE TO GET THE FOX NEWS APP
The protests on Sunday follow pushback from environmental groups after British Cycling announced a partnership with oil and gas company Shell last year, a deal which includes displaying the Shell logo on the team's jerseys.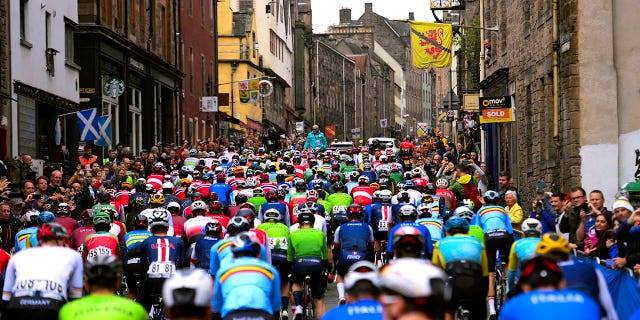 "The fact that INEOS has been allowed to sponsor a team in the race around the Campsie Fells – which were engulfed in wildfires last month – is a disgrace and an insult to the both cycling community and the people of Scotland," another protester, Cat, said, via This Is Rigged's social media. 
Law enforcement officials in Scotland said five protesters were arrested following Sunday's demonstration. 
The Associated Press contributed to this report.