Cincinnati Bengals star running back Joe Mixon and Lamonte Brewer, his sister's partner, has been named in a civil lawsuit by the legal guardian of a 16-year-old who was shot in March, according to Fox19. 
The lawsuit, which was filed on Thursday in Hamilton County Common Pleas Court by Jason Bell, the boy's father, claims that Brewer fired an assault rifle a minimum of 11 rounds at the minor, called C.B. in the lawsuit, while C.B. was on his own property on March 6.
"Joe Mixon was also in his own backyard with a loaded 9mm semi-automatic pistol at the time of the shooting," the lawsuit states.
CLICK HERE FOR MORE SPORTS COVERAGE ON FOXNEWS.COM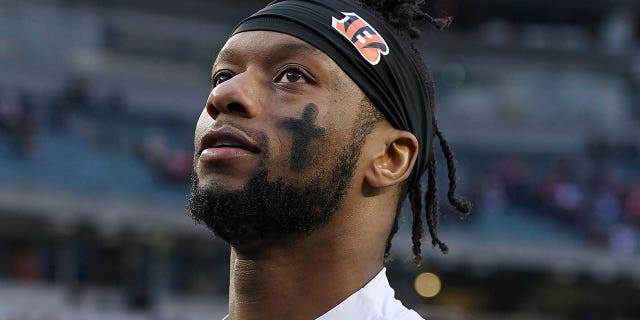 The lawsuit adds that the weapon Brewer fired, as well as the ammunition, was owned by Mixon and provided at his home, which is next-door to C.B.'s residence in Anderson Township, Ohio. 
According to court filings, C.B. spoke to Mixon across the fence that separates their properties 15 minutes prior to Brewer firing rounds in their direction.
Mixon was informed the teen was playing "Nerf Wars," according to the lawsuit. 
The lawsuit added that a bullet struck a Nerf rifle C.B. was carrying, and he was also hit by a "7.62mm round shot from Joe Mixon's assault rifle used by Lamonte Brewer" in his right foot. 
BENGALS' JOE MIXON PLEADS NOT GUILTY TO CHARGE OF ALLEGEDLY POINTING GUN IN WOMAN'S FACE
A search warrant for surveillance video showed Joe Mixon in his backyard with a firearm, though no shots were fired, Hamilton County prosecutor Melissa Powers said in a press conference, via Fox19. Powers added that Mixon is a legal gun owner and didn't commit a crime during this incident.
Sholanda Mixon, the sister of the Bengals star, and Brewer were allegedly made aware of the Nerf Wars and therefore "could not have reasonably felt that their lives were in danger," the lawsuit says.
Mixon told her brother that night that she had seen people outside the residence with guns, Powers added. Powers also noted that Mixon had been receiving death threats.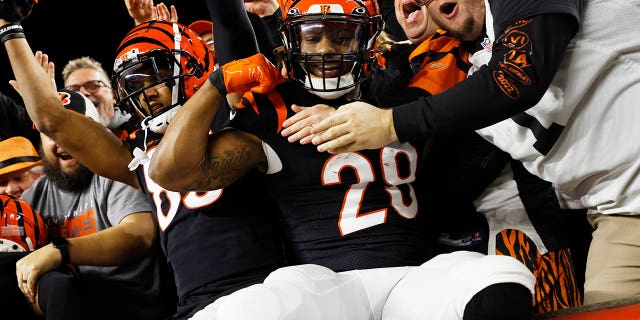 Brewer, however, could be seen firing 10 to 11 shots, Powers said, at the teens who were playing Nerf Wars. Shalonda Mixon was found picking up shell casings from bullets in the backyard on the surveillance video. 
"It is utterly ridiculous, unbelievable, and it is unreasonable that Joe Mixon or anyone in Mixon's home could have feared for their lives."
In a lengthy statement 10 days after the incident, Joe Mixon's agent, Peter Schaffer, said that Mixon feared for his and his family's life following an out-of-town trip. 
"A few weeks prior to the incident, Joe's address was improperly released to the public. After his address was released, Joe became the victim of multiple threats of physical harm and harassment on social media and at his residence in Cincinnati. These threats have been well documented.
"On the night of the incident, a number of vehicles pulled up in front of Joe's house and blocked the street. This occurred when it was very dark outside. Joe and his physical therapist witness multiple people exit the vehicles carrying what appeared to be weapons as they ran into neighbors' yards. One individual was observed going into the trunk of his vehicle, screaming instructions, and retired what appeared to be a long gun (at the time it appeared to be a "Kel-tec" rifle). The individual ran up a back driveway of the residence yelling 'F— yeah.'"
BENGALS COACH REVEALS JOE BURROW RECOVERY TIMELINE AFTER CALF STRAIN INJURY
The statement from Schaffer added that Joe Mixon called the Bengals' director of security to have police dispatched to his home, while his physical therapist did the same. Recordings of the 911 call "have been made public and clearly shows the level of fear and concern in his voice from the situation." 
Mixon's trouble off the field continued despite no charges being filed in this incident. In April, he faced aggravated menacing charges for allegedly pointing a firearm at a woman prior to the Bengals playing the Buffalo Bills in the AFC divisional round in January.
The initial charge was dropped less than 24 hours after filing, but new evidence at the time brought on the new misdemeanor charge, which he pled not guilty to.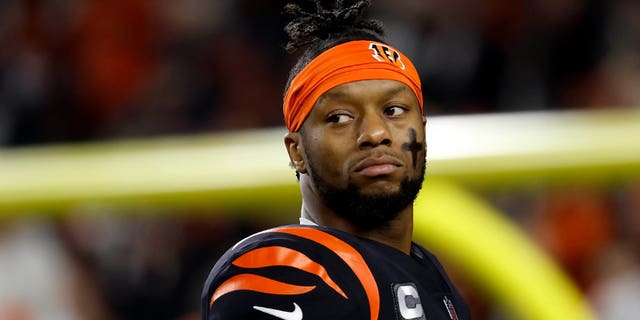 CLICK HERE TO GET THE FOX NEWS APP
Mixon is entering his seventh year in the NFL, all with the Bengals after they drafted him in the second round of the 2017 NFL Draft. He took a pay cut this offseason to remain with the team this year.