The Alabama Crimson Tide entered the 2022 college season with a sure thing at quarterback as Bryce Young returned for his junior season after winning the 2021 Heisman Trophy.
The 2023 Alabama squad is not in a similar position with just about a week to go until playing Middle Tennessee to kick off the 2023 campaign.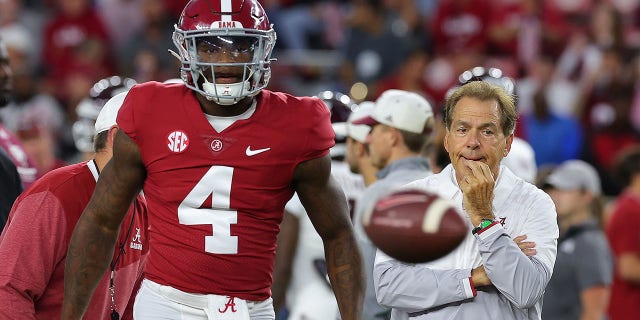 In July, head coach Nick Saban mentioned three quarterbacks in the mix for the starting job, with returning sophomores Jalen Milroe and Tyler Simpson competing with Notre Dame transfer Tyler Buchner.
FORMER TENNESSEE COACH, AD IN HOSPITAL AFTER MEDICAL PROCEDURE: 'IN GOOD SPIRITS'
On Wednesday, Saban challenged his quarterbacks to force his hand in making a decision on who will be the starter. 
"I told the quarterbacks, I said, 'Quit looking around for me to make a decision about who's going to play. How about you playing good enough that I don't have a choice? That's what you can control. That's what you can do,'" Saban told reporters. "And somebody needs to do that. And it's sort of taking shape to some degree, but somebody's got to do it."
Saban then mentioned that whoever ends up getting the nod for Week 1 won't necessarily be the starter moving forward.
CLICK HERE FOR MORE SPORTS COVERAGE ON FOXNEWS.COM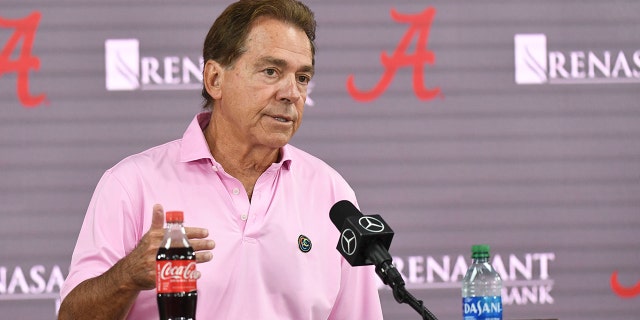 "And where you all [media] think whoever we name as a starter the first game, that's like the end of it. That's not the end of it. It's just the beginning. What if the guy doesn't play good? He's not entitled to keep playing," he said.
"And the guy that doesn't play has every opportunity to practice and be more consistent and win the team over so that when he gets an opportunity to play, he plays really well. We have changed quarterbacks around here a few times during the season. I know you guys are looking for an end, but it's not even going to be the end in the first game."
Alabama's first real challenge of the season will come in Week 2 against the Texas Longhorns as head coach Steve Sarkisian enters his third year in Austin.
Texas nearly defeated Alabama last season, losing 20-19 as Young led the Crimson Tide down the field with his legs and his arm late in the fourth quarter, getting kicker Will Reichard in range for the game-winning 33-yard field goal.
CLICK HERE TO GET THE FOX NEWS APP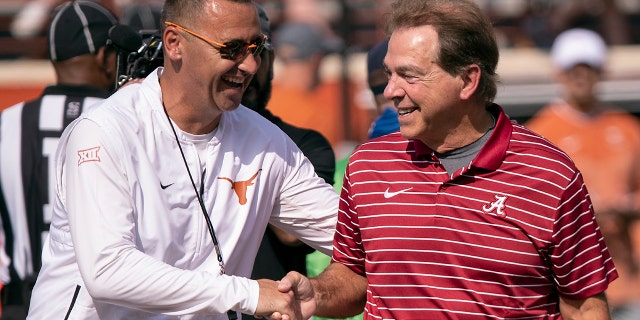 "We thought we played them well a year ago," Sarkisian said at Big 12 Media Days. "We didn't play well enough. So, the key to the drill when we go there, we have to play better than we did last year."
"I think we can. I think we'll have the mental fortitude to go do it, the mental toughness to go do it, and the physical toughness to go do it because it's going to be a physical football game," he said. "They're a big, physical football team that will be really well coached, and we have to make sure they get our best shot because we're going to get theirs for sure, too."
The Longhorns finished atop the Big 12's preseason poll, which is voted on by media representatives, for the first time since the conference went to a format without divisions in 2011.