This Post May Contain Affiliate Links. Please Read Our Disclosure Policy here
I thought today it would be fun to share just a few of the little design details around our home and why they feel special to us. A home feels special to the people who live there when they have made a series of thoughtful, personal decisions for how they want live in it, how they want to decorate, organize and put their personal stamp on their surroundings.
It's more than just the things themselves, it's the stories, feelings and experiences behind them.
Here are 10 little design details we love and the story behind them.
1) Nooks & crannies.
One thing I love in old houses is the little unexpected nooks & crannies that you don't always find in a newer home. I've lived in so many older homes I loved that I wanted to bring some of that familiar "old house" character to our new kitchen! This is why I love our display cubbies and dish cabinets. It's fun to have a place to put our pretty little things that might not have a good spot otherwise. My husband and I are so happy these were worked into the design because they bring joy every day.
2) Cookbooks on shelves in the kitchen.
Years ago we remodeled our 1935 English Tudor kitchen. One favorite element we added there was the built in cookbook shelves in the island! We loved it so much that we had a similar one added here in this island! Bookshelves in a kitchen have always felt so homey to me, so just like we did so many years ago we look forward to filling ours with lovely cookbooks and other display items.
My favorite cookbooks are all in this folder.
3. A place for everything.
Having order in our home and a place for everything (which we're still working on!) brings me a sense of peace in our surroundings. Caring for your home is caring for yourself, so I think it's worthwhile to consider details that will create a sense of peace in your surroundings.
Soon I will share a tour of our kitchen and some of the special cabinets we added. But we also added many "not-custom" drawer organizers. While they aren't fancy built ins, we were happy to save some money on what can add up to be very expensive. And now we still get to enjoy the practicality and beauty of a place for everything.
We also use baskets everywhere to hide the things that don't feel as special. Here are a few we have and love.
These are thoughtful, intentional details that most other people will never see, but make us feel nurtured in our day to day experiences home.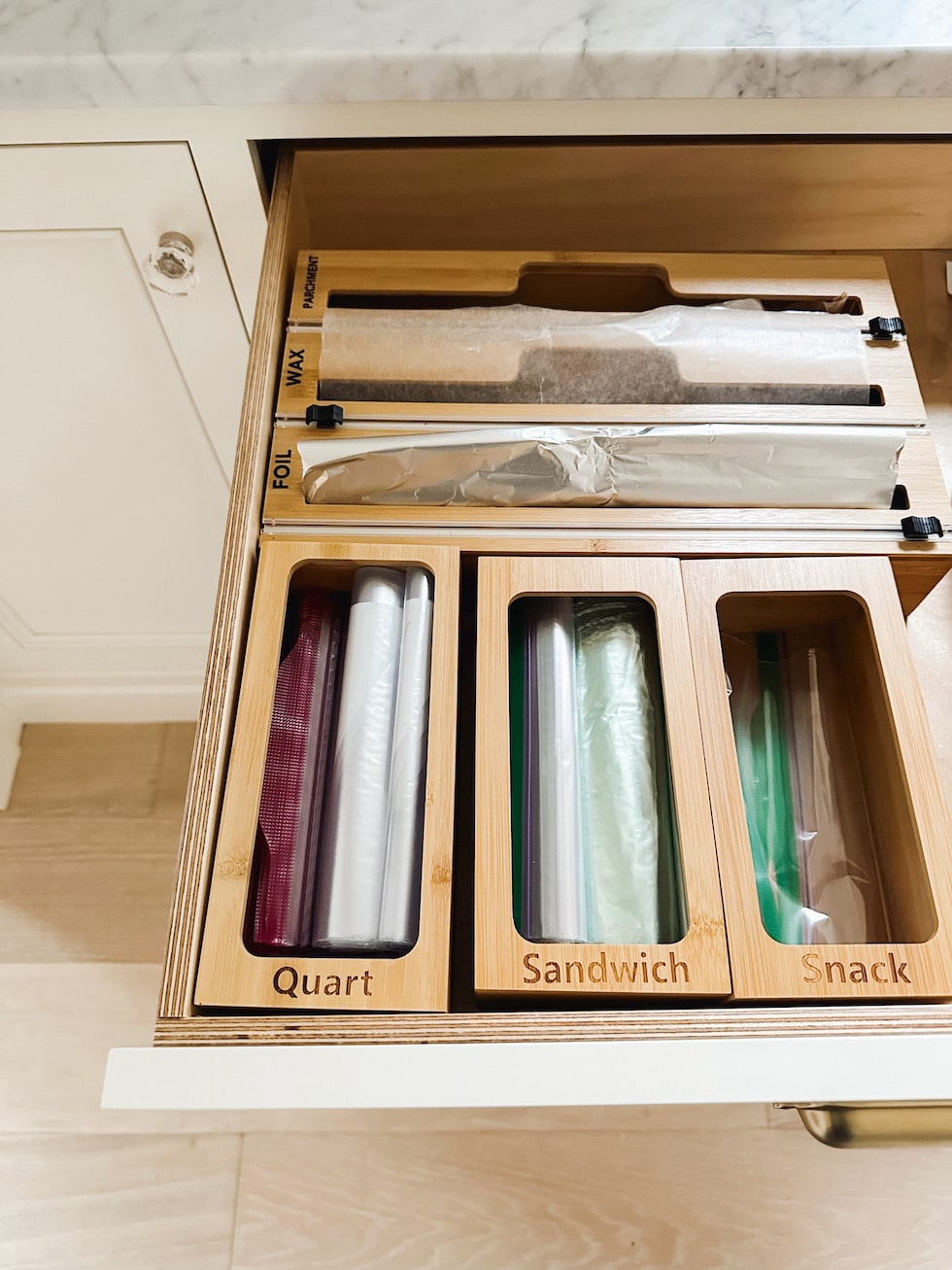 ---
Here are five of our favorite kitchen organizers: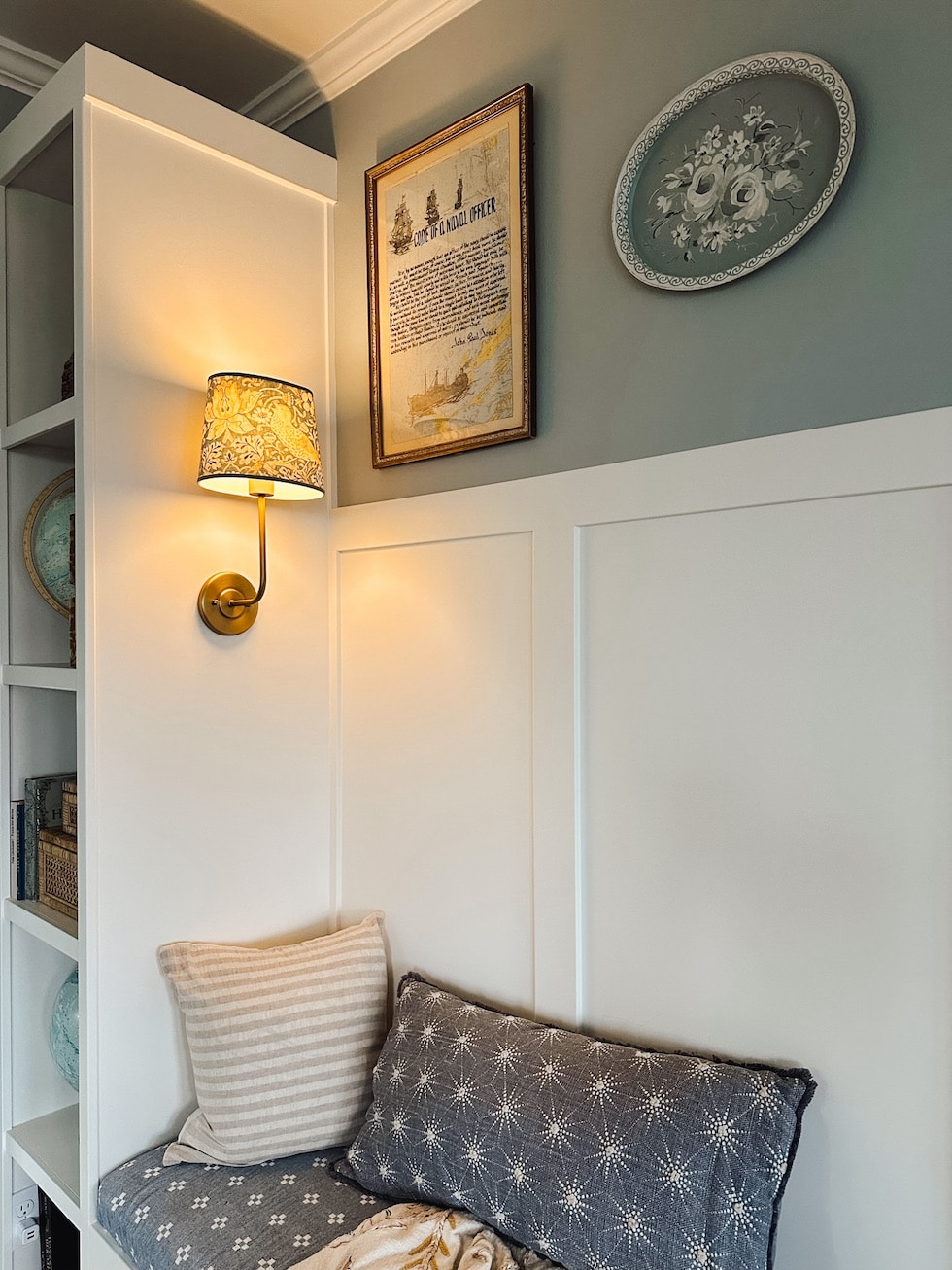 3) Charming lighting.
Lighting choices are a perfect opportunity to make a home feel special. As an old house lover, I always really appreciated the character of the light fixtures. While ours are not vintage, we found chandeliers / lanterns that we felt fit the character of our coastal home. We really love: these kitchen island lights, our dining room chandelier, and an entry lantern. We also added this wall sconce in the living room and this fun star ceiling light in the tiny hall that leads to The Tiny Cottage. Our outdoor wall sconces for just outside the kitchen on the deck, which I will show you soon.
4) A dining room library.
I've always dreamed about having a dining room library and I finally had the opportunity when we added built-ins to our dining nook! It's not a huge library or a large dining room, but they both feel so special to me! The bookshelves hold many of my favorite design books, so I look forward to enjoying flipping through the pages this fall and winter (while having coffee at the table!). Sometimes we have to wait or compromise on the special details we want, but I'm grateful we finally got to see this dream come true!
Some of my favorite design books here.
5) Art that tells a story.
I love to collect special things that give our home a unique story. We have some vintage accessories, original art, plates to display, and secondhand pieces that all tell a story. There are so many things like that that make us feel a sense of connection to our home.
When I see a plate I've had for years now hanging on a wall in this home, or a piece of art I've brought with me from a previous home, it makes me smile to think of all of the homes we've hung them in. It tells me we belong in this home and our history is here.
I hang plates with these hangers! I've never had one fall off the wall.
And I love using easel stands and these to stand plates or art up on a surface — these gold stands and these acrylic stands.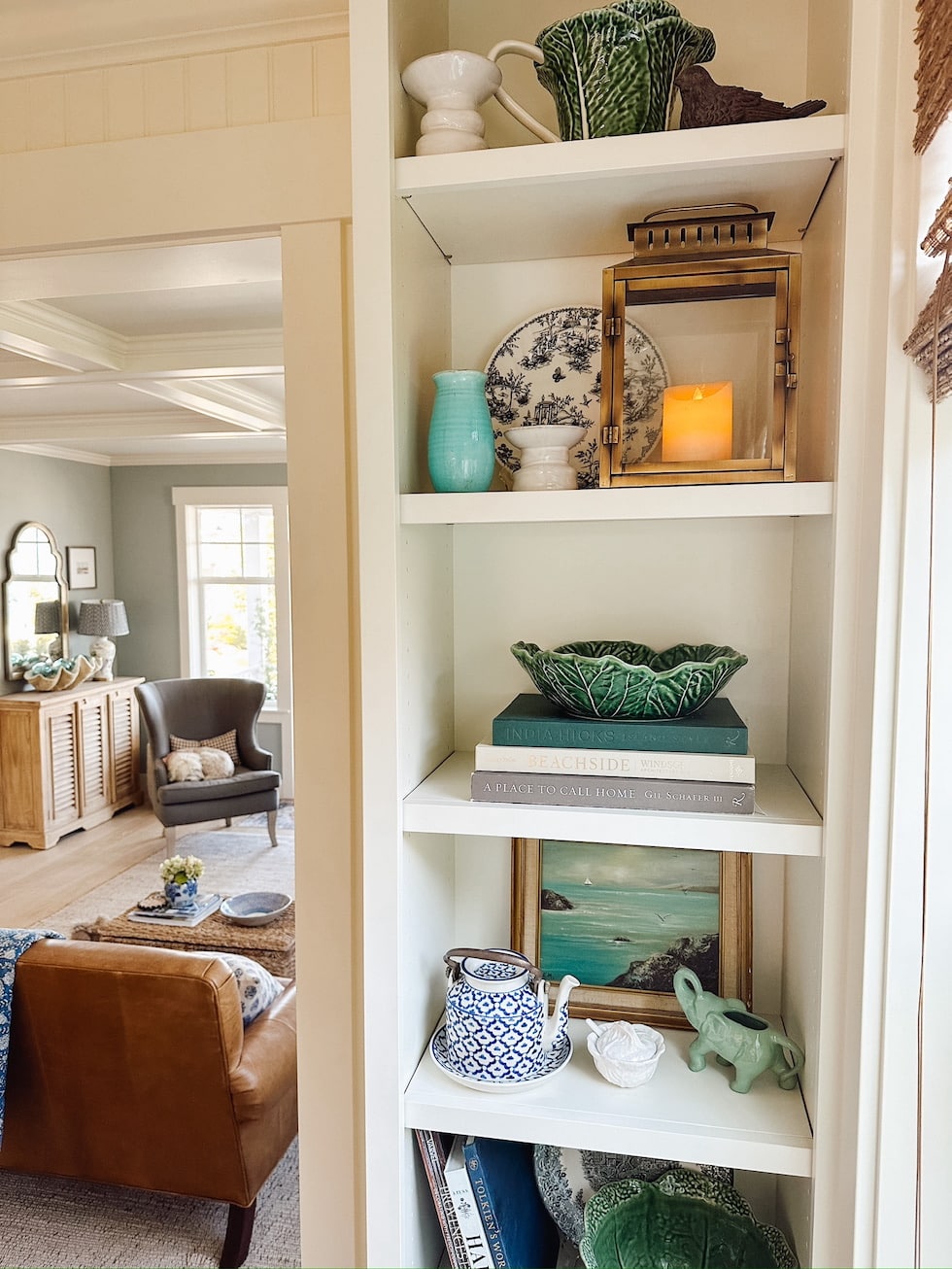 6). A welcoming ambience.
I love all of the details that contribute to the ambience of the room, but my favorite in fall and winter is always the simple joys of savoring candlelight. Candles light up dark corners and fill a home with a sense of warmth and welcome. Battery operated flameless candles can be left on as needed to cozy the mood on long dark winter evenings (but we never feel we have to deprive ourselves of candlelight on gloomy mornings or afternoons!).
Candles make our house feel like home. The simplest details can feel so special!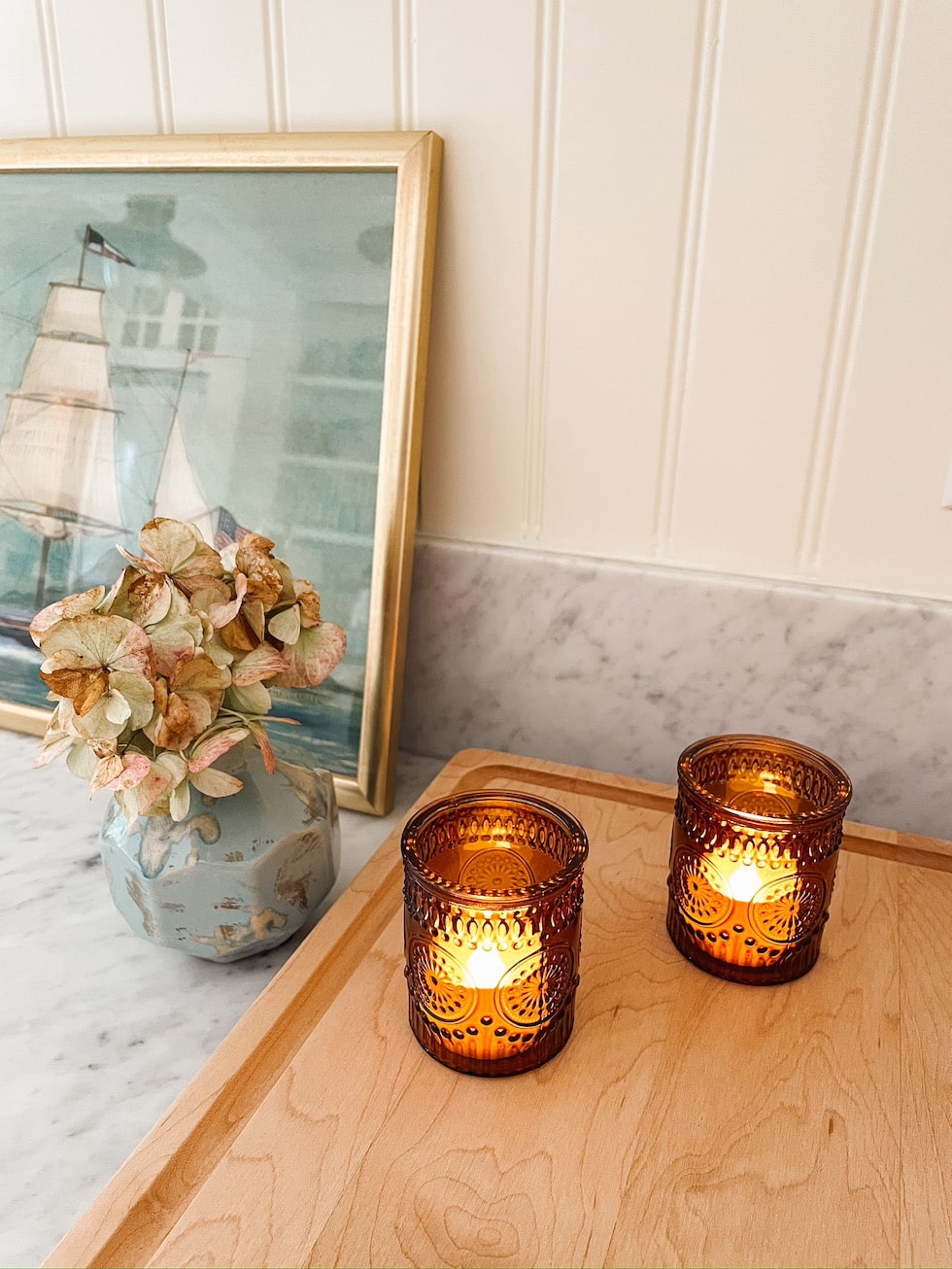 ---
Here are a few of my favorite flameless candles: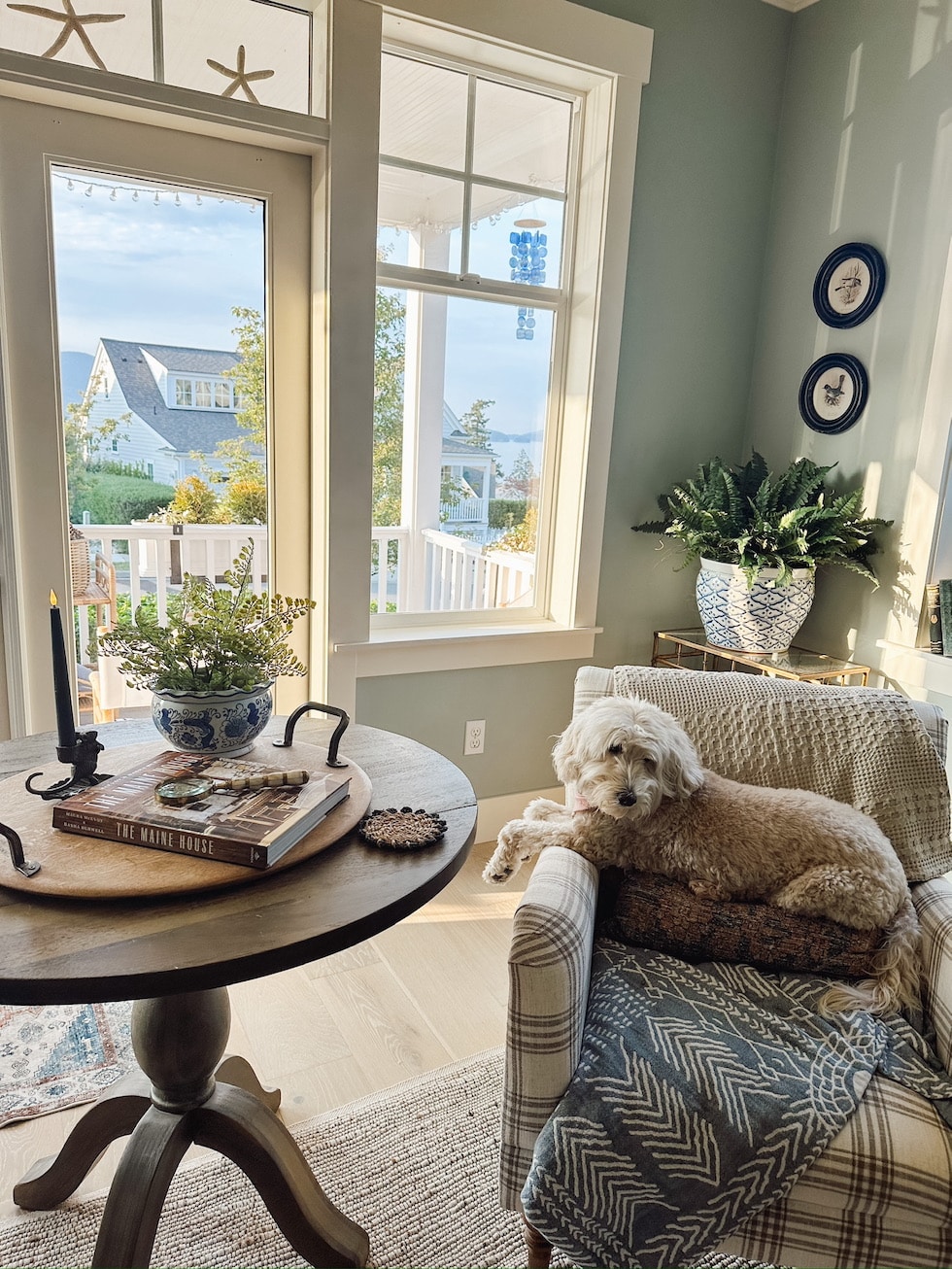 7) The Christmas Tree corner.
This will be our third Christmas here in this house, can you believe it? Every year we've enjoyed getting to know this home and make it more our own. Last year I realized this is our Christmas tree corner! It made the most sense in our small living room. We got a striped chair for this spot last year because it was just the right size to make room for the tree and it wasn't too heavy to move. In our furniture shuffle after the renovation we brought the striped upstairs (one in our bedroom and one in our guest room) and got another in the same type of chair but in a plaid fabric.
Every year we begin to better understand the little things that make us feel at home, right down to the small details like where our Christmas tree fits best or what size chair we like to sit in for each corner. We don't get every thing right the first time but it is fun to experiment and make discoveries as you live in the home.
Most of all it is the memories made in each corner and through every season that makes our home feel so special to us!